Last
donors
:





More Fake news
Looks like the vault of sexual tales are running low.
Are you an author? A smut fan-fiction writer? Let's see what you've got!
Pop on over to
Daily Sex Story
and share your prose with us, and if you're selected, you can earn this fancy doo-dad for your page:

Date: 2014-06-11 20:38:21
News #: 101
Reporter: That Nik Guy
More stories
1.1 Nathaniel J. Costin (+1)
Better late than never was a saying that had always caused the young woman in the room, who'd been there for one and a quarter hour now on the nose, a great deal of mental agony. It was the dismissiveness of it, the rude, backhanded way it could be said that could say volumes about the person who spoke it, depending on the inflection of their voice. As far as Sylvia Monroe was concerned however, she would certainly not be keeping company with type of person that would say such a thing, regardless of the how or the why. Certainly Mr. Harold Stupski would have agreed with her had a bullet not gone through his skull exactly an hour and twenty seven minutes go.
She found, having gone through his things while blood and cerebral matter dribbled from the back of his skull and onto the polished granite tile of his extremely well designed master bathroom, a man of very fine taste who was by all accounts just as punctually insistent as she was. He had calendars and logbooks written in very neat, small, but perfectly legible hand writing, detailing every moment of his waking hours and timers set to match; his morning alarm went off at four thirty, his workout room (which had a fantastic view of the city she had to admit) was set to begin cooling at four so that it would be ready for the exactly half an hour workout routine, carefully detailed in his daily planner of course, followed by a shower in the master bathroom he was currently retiring in, whose floors began to heat at precisely four fifty two am, and then morning coffee and the modern day equivalent of the paper which a name brand e-reader in the higher of price ranges, the machine that served former of which would begin brewing at quarter after five while the latter was left out on the table and could be turned on at its masters leisure.
--------------
-------------------------------

Want to read more of this story? Click Here! --> Monroe: 1.1 Nathaniel J. Costin (+1)


---------------------------------------------

Want your story posted? Submit here! Daily sex story.

Or to view past favorites, click here: used daily sex stories and used daily sex stories2.
More about the Daily Sex Stories
Date: 2014-09-14 18:57:58
Story #: 147
Mod: Ich Bin Ashes Feinrose
More sluts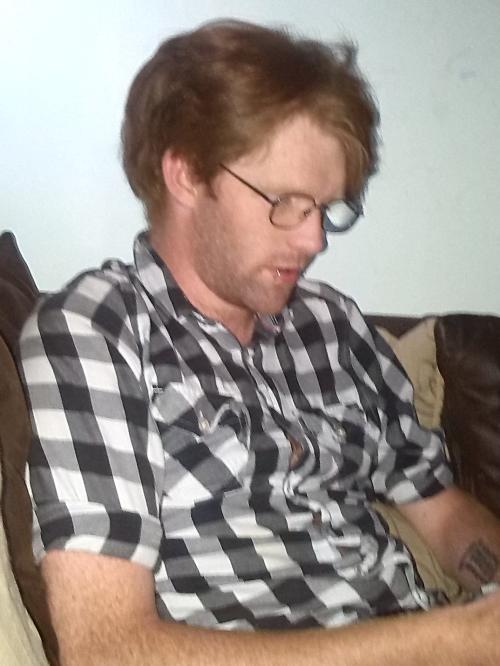 At age of 27, he is no virgin, but instead is into some pretty kinky stuff. He loves bondage, spanking, face fucking and forced orgasms. Though he says he has no idea what makes him so slutty he knows his ginger red hair makes him sexy. :)
Though we would have to ask for pictures of his cock, he says to just ask and find out! So if you want go try. :) The bedroom is his favorite place to have sex and he loves every part of the sexual act.
He has alot more info and if you're interested, go click on his interview! :)
--------------
-------------------------------


Peek at his interview here!! --> slut of the week interview - member # 11392

---------------------------------------------

Want to have a chance to be chosen and featured as Slut of the Week? Then submit your application to Slut of the Week - Applications.

Want to see past winners and their interviews? You can see them here! Slut of the Week Winners & Slut of the Week - Interviews.
About the Slut of the Week
Date: 2014-09-14 18:54:06
Slut #: 109
Mod: Ich Bin Ashes Feinrose